Roll over image to zoom in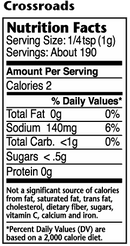 Description
When you think of classic barbecue, you think of barbecued chicken, ribs, pork butt, sausage, and brisket. Crossroads was designed to add a perfectly balanced true southern barbecue flavour to anything cooked on the smoker or grill. Already known for unique, creative and complex yet balanced flavours, Dizzy Pig has done it again with this return to traditional American BBQ. A 2016 release, we've received many complements about the true authentic roots of this delicious rub.
Slightly sweet, earthy, round and delicious, Crossroads is ideal for chicken, ribs, pork shoulder and Boston butt. It combines chillies with classic BBQ spices for an enhanced flavour profile that lets natural meaty tastes shine through. We've heard this rub reminds people of the finest barbecue they've ever put in their mouth, which we take as a high praise. And let's not lie, we agree with completely.
Flavour
Mild heat level
Earthy
Perfect balance of spice and pepper
Slightly sweet
Round and delicious
Our Favourite On
Chicken
Pork ribs
Pork shoulder
Enhances
Pork chops
Pork tenderloin
Brisket
Turkey
Burgers
Sausage
Recipes
To see incredibly tasty recipes using Dizzy Pig Crossroads click >> https://dizzypigbbq.com/product/crossroads/
Ingredients
Spices
Demerara sugar
Paprika
Salt
Garlic
Onion
Dizzy Pig products are ALL NATURAL and contain:
NO wheat gluten
NO MSG
NO peanuts or tree nuts
Allergens
Crossroads contains none of the top ten listed allergens. Contains chillies, celery seed, onion and garlic (which some folks have sensitivities to).
195 gram container